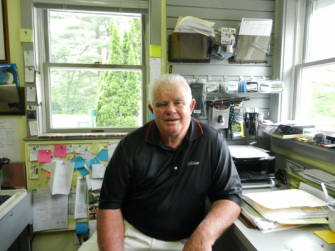 PAUL BARKHOUSE
NEW ENGLAND SECTION
PROFESSIONAL GOLFERS' ASSOCIATION
HALL OF FAME
2000

Paul Barkhouse, the head professional at Wobum Country Club in Woburn, Mass., has dedicated his professional career to the New England PGA, his fellow PGA professionals and to promoting the great game of golf. Beginning his golf professional career in 1965 as assistant golf professional at White Cliffs in Sagamore, Mass., Barkhouse went on to hold head professional or director of golf positions at Unicorn Golf Club in Stoneham, Mass.; Femcroft Country Club in Danvers, Mass.; Steplechase Country Club in Groveport, Ohio and Ipswich Country Club in Ipswich, Mass.

Barkhouse has been actively involved on every level, constantly striving to improve the Association and the delivery of services to its members. His leadership abilities and his strong desire to continually improve the Association have inspired him to service within the New England PGA . Notably, he served as vice president on the Executive Committee from 1977 through 1979 and as chairman and co-chairman of the Tournament Committee from 1978 through 198S. He has served as president of the Seniors' Chapter since 1998 and has been instrumental in delivering quality, sponsored tournament events and improving communication within the organization. Barkhouse received the coveted NEPGA Professional of the Year award in 1981 in recognition of his outstanding performance and achievements as the ideal club professional and was honored as the New England Section's Merchandiser of the Year in 1980 and again as the Southern Ohio Section's Merchandiser of the year in 1989.

Barkhouse's playing achievements are legendary. He is arguably one of the best and most consistent players in NEPGA history. He has earned the Wogan Award Player of the Year trophy twice, in 1969 and again in 1977 for overall excellence in playing achievements. In 1979 and again in 1980, Barkhouse teamed with Paul Harney to win the NEPGA Senior-Junior Championship. In 1980, he also played in another Senior-Junior Championship, PGA of America's, and took home National champion accolades. Paul won the NEPGA Individual Match Play Championship twice, in 1981 and 1984. The Pro-Pro Stroke Championship ended with Paul at the top three times, in 1979 with partner Les Bond, and in 1982 and 1997 with partner Paul Parajeckas. He also teamed with Parajeckas in 1984 to win the Pro-Pro Match Play Championship. Not only has Barkhouse won numerous individual and team championship events, beginning in 1966 when he won the Assistants' Championship, he has earned championship laurels in open events six times: He won the New Hampshire Open in 1969 and in 1977, the Maine Open in 1972 and 1974, the New England Open in 1975 and the Massachusetts Open in 1976. Barkhouse won the PGA Club Professional Series in 1980 and has played in numerous U. S. Open, PGA Tour, PGA Senior Tour and PGA Championship events. He earned the NEPGA Senior Chapter's Player of the Year awards in 1998 and 1999. And throughout his career, Barkhouse has not only excelled as a great player of the game, he is also a much sought after teacher of the game of golf. He has consistently demonstrated unwavering commitment to the making golf a better game and in service to the New England PGA and is a true ambassador of the game.

Salem News, Friday September 25, 2015, Reading the Greens by Gary Larrabee
"BARKHOUSE , MARAD ATTAIN SPECIAL CAREER MILESTONES"


As we conclude another year of "Reading the Greens",it's rather fitting that we recognize milestones attained by two of our North Shore favorites spanning the last half century.
We first salute PAUL BARKHOUSE, Happy Valley product and New England PGA Hall of Famer who not only turned 75 this year, but marked his 50th season as a golf professional, his 16th as head professional at Woburn Country Club and his 24th overall at the popular nine-holer.
Even more impressive, this season has represented the 42nd year Barkhouse and his bride, Nancy (Galeazzi) have formed a winning team in the pro shop. They recently celebrated their 46th wedding aniversary. The long hitting Barkhouse enjoyed a terrific playing career (Massachusetts Open and New England Open champion, PGA tour hopeful) while emerging as one of the most popular players in the region. But he was destined to make his biggest stamp on the game as a highly respected club professional, from Unicorn to Ferncroft to Steeple Chase outside Columbus, Ohio, to Ipswich Country Club to Colonial and finally to Woburn. He was sidetracked once with triple bypass surgery (1997), a second time with hip replacement surgerty (2000), but the's still going strong with Nancy alongside.
Nancy Barkhouse has been with him every step of the way as his right-hand gal in his pro shops and the lady in charge when Paul was on his tournament trail. "She always was interested in my playing and my working as a golf professional,: Paul said gratefully. "She gave up her school teacher career to be with me, support me in everything golf." "We had years of going to this course early, coming home late, and now many years at Woburn-Nancy has come in early, like 6-6:30 a.m. to open. I come in later so I could be the closer, getting Nancy out by midafternoon so she could go home, do errands, catch her breath and get supper ready for the two of us. An amazing wife, co-worker and mother."
Mother to their only child Tracy, now a mother of three of her own, all of whom Nancy and Paul love to dote over. "Tracy was three when we started at Unicorn and she came to work with us every day." Nancy recalled. "We had a little kid's pool for her to use." Those years I ran the snack bar and helped Paul in the shop when I could.
"The key to it all working for almost 50 years now is that Paul and I have gotton along wherever we were: home, at work, on the tournament circuit, you name it," Nancy says. "We're different; Paul more easy going, me a little high strung. But we're always managed our different personalities with each other and all the golfers we encounter every day." And she means every day. It's a seven-day work week in-season at Woburn, a public course with memberships (though Nancy occasionally eases back to six days).
Barkhouse's competitive days are long over, but the memories are priceless: his 1969 New Hampshire Open victory right before he and Nancy left for the PGA Tour ( this writer was his caddy those two glorious days at Manchester CC; his 1975 New England Open triumph (over Danvers native Don Cress) at Indian Ridge; his 1976 Massachusetts Open playoff victory at Worcester over Bob Menne and Bruce Douglass, among others.
After all said and done, Paul and Nancy agree that, as important as golf has been in their lives, their love for each other has been the strongest bind that ties. "No doubt about it, " they declare in unison. "That and our winter break in Florida."
Now with one year reminding on Paul's contract, he and Nancy will serve Woburn CC in 2016, then most likely finally slow down, retire and become full-time grandparents. "The best job we could ever look forward to, " Nancy says with a smile.