Our public golf course has a great layout and is only 10 miles from downtown Boston. It is surrounded by a serene wooded area that allows a cool breeze and renders some shade for the hot days. The course borders Horn Pond and our man-made pond on the third and seventh holes offer a view of local wildlife and fauna.. Look below to find our hole by hole guide to WCC. It outlines hazard areas, out of bounds area and offers some tips for shot positioning.

FIRST HOLE: This hole offers a straight away look at the green. Mostly players will hit driver or 3-wood and leave themselves with 150 yards or less in. There is out of bounds on the left side woods. The stakes are about half-way between the rough edge and the rock wall. Also on the hole is a bunker down the ride side rough about 150 yards from the green. The green is slightly elevated with three sand bunkers surrounding it. You are safer short here.
For Men Par 4 -- 363 yards | For Women Par 4 -- 300 yards
---

SECOND HOLE: There is a big decision on the tee with this hole. There is a wide landing area out there about 200-240 yards. Longer hitters may choose to attempt to get to the bottom of the hill and have only 100 yards in. The hole slopes down to the right after the landing area and it is risk-reward decion. On the approach shot, you will see that there is a sand bunker on either side of the green (3 total), as well as a wooded area to the right beyond the bunker. Safe shots are short, but don't count on them bouncing on!
For Men Par 4 -- 363 yards | For Women Par 4 -- 352 yards
---

THIRD HOLE: This wide fairway is just asking you to "Grip it and Rip it", but do so at your own risk. There is a pond to carry on the right-center at the beginning of the fairway as well as a creek that runs the length of the right-side, which is a lateral hazard. There is bunker down the left side that is visible from the tee. Most players will have 140 yards or less in the the elevated green, which may effect club selection.
For Men Par 4 -- 359 yards | For Women Par 4 -- 269 yards
---

FOURTH HOLE: This hole again calls for a well-placed (blind) tee shot. To maximize roll and distance, the best shot is down the right side of the fairway toward to two towering pines. This section also gives you the best angle to come in at. Down the left there is out of bounds. The green has a sand bunker on both the left and right sides and is one of the few at Woburn Country Club that allows for an approach shot to bounce on.
For Men Par 4 -- 371 yards | For Women Par 4 -- 350 yards
---

FIFTH HOLE : The longest hole at WCC (especially into the wind). The fifth offers a wide landing area for all players. The risky players will aim it down the right side and attempt to cut off some of the distance. Again there is out of bounds down the left side all the way to the green. Players will have anywhere from 210-150 yards in the green depending on driving distance and angle. This fairway drops off to the right and and errant approach shot can take par right out of the picture. There is a bunker guarding the left side of the green. Again here it is possible to bounce one on
For Men Par 4 -- 410 yards | For Women Par 5 -- 384 yards

---

SIXTH HOLE: The Sixth offers another risk-reward decision. While longer hitters can hit driver or 3-wood and land on top of the distant plateau leaving them less than 100 yards in, a 5-wood or long iron can land you in the valley with only 125 yards to the pin. There is a brook (lateral hazard) down the left side and a wayward shot right can result in no shot to the green. There are two sand bunkers on the right side of the green while anything short could roll back 15 yards from the elevated green. From the blind approach shot, the two wire towers in the background offer a good target.
For Men Par 4 -- 326 yards | For Women Par 4 -- 222 yards
---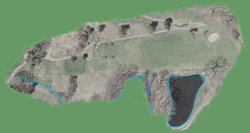 SEVENTH HOLE: The first of two very challenging par 3's that Woburn has to offer. This hole requires and accurate long iron or shorter wood to a slightly elevated green. Down the right side is that same pond that you saw from the third tee, while the left side of the green offers an inviting sand bunker. Don't expect any shots to bounce up, but rather to roll to the foot of the small hill in front. Par is a good score here.
For Men Par 3 -- 190 yards | For Women Par 3 -- 139 yards

---

EIGHT HOLE: A slight dog leg left, this hole offers a view of the club house from the tee. The landing area is initially wide, but bottle-necks around the 160 Yard area. A good tee shot will leave you with 150-180 yards to this tough green. There is out of bounds down the left side before the large hill with the shrub and then a lateral hazard the rest of the way down the left. Leaving the ball below the pin is the name of the game, as the green slopes sharply form back to front and from right to left.
For Men Par 4 -- 389 yards | For Women Par 4 -- 336 yards
---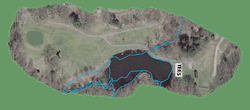 NINTH HOLE: Our signature hole with a tee shot over a pond. Good tee shots will carry the hill on the fly and be on the right half of the hill. From there the landing area slopes toward the green. There is out of bounds to the extreme left of the hole and also to the extreme right (toward the parking lot). Players who don't make the hill will have about 75-80 yards in to a relatively flat green that is infamous for subtle breaks. Par again is a very good score.
For Men Par 3 -- 215 yards | For Women Par 3 -- 112 yards

---
General Description and Distances
For Men For Women


Course length is 5,973 yards . Course length is 5,130 yards


PAR is 68 . PAR is 70


Rating is 68.9 . Rating is 68


Slope is 121 . Slope is 104



LOCAL RULES OF GOLF
1- Out of Bounds is indicated by white stakes on holes 1, 5, and 9; also by left margin of pond on 9. Red stakes - lateral hazard • Yellow stakes - water hazard.
2. New Staked Trees - Relief must be taken, not nearer the hole, so that a player's stance, swing of club, or flight of ball will not hit any newly planted trees.
3. Roads and Paths - Surfaces and sides of all roads and paths are immovable obstructions; drop no nearer the hole, within two club lengths of nearest relief.
4. Fences protecting teeing areas are immovable obstructions; drop no nearer the hole, within two club lengths of nearest relief (no line of flight relief).
5. Power Lines and Towers - Ball hitting any power line over the course (in bounds) must be replayed without penalty.
Ball hitting any tower ( in or out of bounds) or power line over out-of-bounds shall be played as it lies, or if out of bounds with stroke and distance penalty.
RULES OF THE COURSE
1. No alcoholic beverages allowed on course.
2. Absolutely no practicing on golf course; all practicing is limited to putting greens and nets.
3. Group hitting is only group allowed on 1st tee; all others must remain outside railing.
4. Singles and twosomes must be willing to form groups - 3 or 4.
5. No five-some allowed.
6. Shirts must be worn at all times.
7. Each player must have own set of clubs.
8. Slow players must allow faster players through.
9. Please replace divots and smooth traps.
10 Keep bags and carts off tees and greens.
View Score Card