Congratulations to the 2017

Woburn Memorial High School Golf Team

Senior (Capt.) Jake Pineo & Robbie McGaham
Senior (Capt.)


Junior Nick Heims, Matt Larney

Sophomore Sam Geery, Pete Marashio,Jesses Stocker, Matt Spolidoro,& Kevin Valisopoli
Freshman James Hamel

Coach Ben Bridgeo

Golf Team Schedule 2017
Sept. 7th at Belmont
Sept. 11 at Wilmington
Sept. at Arlington
Sept. 14 Lexington
Sept. 20 at Wakefield
Sept. 26 Burlington
Sept. 27 at Melrose
Sept. 28 at Winchester
Oct. 3, Reading
Oct. 11 Stoneham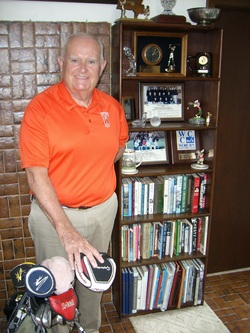 Long-time Woburn Memorial High School golf coach Bob Doran has collected his share of trophies and plaques, many of which are on display at his home in Stoneham. STAFF PHOTO BY MARK GOODMAN

WOBURN GOLF COACH REFLECTS ON 41 SEASONS

BY MIKE RUBAN
WOBURN DAILY TIMES CHRONICLE, DECEMBER 1, 2011

FOR 41 YEARS, HE EMERGED AS ONE OF THE FINEST HIGH SCHOOL COACHES TO HAVE EVER PACED LOCAL GOLF COURSES. NOW AFTER FOUR DECADES OF LEADING THE WOBURN HIGH GOLF SQUAD TO PROMINENCE, LEGENDARY COACH BOB DURAN HAS DECIDED TO RETIRE AFTER A WELL DOCUMENTED SUCCESSFUL CAREER.

SINCE TAKING THE REINS OF COACHING THE WOBURN GOLF SQUAD BACK IN THE 1070, DORAN HAS GUIDED THE TANNERS TO AN IMPRESSIVE 321-91-10 REGULAR SEASON MARK. IN ADDITION TO HIS OUTSTANDING RECORD,DORAN HAS GUIDED THE PROGRAM TO THREE DIISION 2 STATE TITLES ALONG WITH THREE THRID PLACE FINISHES, FIVE NORTH SECTIONAL TITLES AND 21 MIDDLEESEX LEAGUE CHAMPIONSHIP.

" IT'S BEEN A GREAT RIDE," SAID DORAN, WHO IS 75 YEARS YOUNG. "I'VE HAD A LOT OF GREAT MEMORIES AND HAD A LOT OF GREAT TEAMS OVER MY (41) YEARS AS COACH OF WOBURN GOLF PROGRAM, BUT NOW I THINK IT'S JUST TIME FOR ME TO STEP ASIDE AND LET SOMEONE ELSE LEAD THE PROGRAM. COACHING GOLF AT WOBURN MEMORIAL HIGH IS THE BEST JOB THAT I EVER HAD, AND ALL THE KIDS AS WELL AS THE PEOPLE AT WOBURN COUNTRY CLUB WERE VERY GRACIOUS AND SUPPORTIVE TO ME AND TO THE PROGRAM."

AS A RESULT OF HIS CONTRIBUTIONS TO THE PROGRAM, THE MIDDLESEX LEAGUES'S MOST VALUABLE PLAYERS AWARD WILL BE IN HIS NAME AS THE BOB DURAN AWARD.

Year 42 will be his last

Doran to step down as WMHS coach after this fall

By Mark Goodman

Mark.Goodman@wickedlocal.com

A coaching career that began over 50 years ago at a military base in Alaska will come to an end this fall.

Bob Doran, who has coached the Woburn High golf team since 1970, will retire from his post after the upcoming fall season.

In this tenure with the Tanners, Doran has compiled a 313-88-10 career record. His teams have won three state championships (1999, 2000, 2002), five North sectional titles, and 21 Middlesex League crowns.

"I think it's about time," Doran said Monday. "I'd thought about it before, but (Woburn High Athletic Director) Jimmy Duran persuaded me from doing it. My wife and I like to travel, but golf restrictions put its limits on that.

"I still enjoy it. I guess there comes a time when you just know."

Golf has almost always been a part of Doran's life.

He and a few friends helped resurrect the golf program at Stoneham High School in the early 1950s, as the Spartans joined the Middlesex League in that sport. Upon graduating from SHS – where he had also played basketball – in 1953, Doran joined the Marine Corps for a three-year stint that included involvement in the end of the Korean War.

Doran then attended Merrimack College, playing golf and basketball. After graduating in 1960, he and a college friend moved to Fort Richardson in Anchorage, Alaska, where Doran coached basketball and football.

He moved to Woburn in 1963, and coached freshmen and JV basketball as an assistant to Dick Skeffington. Doran also coached football at Joyce Middle School before taking over the WMHS golf program.

The Tanners' success since then speaks for itself.

"We've developed, I think, one of the most outstanding public school golf programs in the state," Doran said.

Doran fondly recalls many of the golfers that have helped bring Woburn success over the years. In the 1970s, there was Scott Lystad, John Mulkerin and Steve Donovan, who went on to play at Yale, Boston University and Case Western University, respectively. David Miller finished third in the states in 1980.

More recently, there were Mike Murphy (who captained UConn's golf team), Mike O'Brien, Bryan Natale and the Pruyne twins, Dave and Rob, who contributed to one or more of the state championship teams. Dave Gosselin, a 2009 graduate of WMHS, is now playing at the University of Rhode Island.

"I think we had a lot of fun," Doran said. "We competed seriously, but we didn't take ourselves too seriously. We had fun on the golf course, and that was so important to me."

Doran also credits the generosity of the Woburn Country Club and its golf pro, Paul Barkhouse. A former standout on the New England PGA, Barkhouse gives free lessons to Woburn High players. The Club also puts on the Tanners' annual year-ending banquet.

Doran, 75, remains active in the game as a member of the Bear Hill Golf Club in Stoneham, for whom he authored a book published in 2000 celebrating the Club's centennial.

---