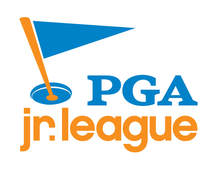 PGA Jr. League is shifting the perception of youth golf and the way the game is learned and played. The program brings family and friends together around fun, team golf experiences with expert coaching and instruction. It's a game changer, and we're so excited to offer PGA Jr. League at Woburn Country Club!
Woburn's PGA Jr. League program is open to boys and girls ages 13 and under of all skill levels – no golf experience required! Kids will learn the game and enjoy relaxed competition in a two-person scramble format that encourages mentorship, builds confidence and teaches sportsmanship.
Registration for PGA Jr. League at Woburn is now open! Register today as space is limited:
DEADLINE TO SIGN UP FOR PGA JR. LEAGUE IS SUNDAY, APRIL 1st, 2018
​
​
Click here to join our team!
Click here to watch a video of what PGA Jr. League is all about!
Each PGA Jr. League golfer will receive:
· Two high-quality team jerseys, one orange and one blue (for home and away games). Jerseys are available in boys and girls sizes and customizable with our team name and player's chosen jersey number!
· T-shirt, hat, bag tag, stickers and drawstring bag
· 4-6 team practices
· 4-6 regular season matches
· Opportunity to advance to All-Star teams during post-season
If you have any questions, please contact Peter Bracey, PGA at
peterbracey17@gmail.com
. You can also visit
PGAJrLeague.com
and follow @pgajrleague on Facebook, Twitter and Instagram to learn more.
We look forward to bringing everyone together for a fun season at WCC!